American Society for Asset Protection Experts are clearly America's top lawsuit protection, tax reduction, and estate planning experts and advisors and have an impressive list of accomplishments: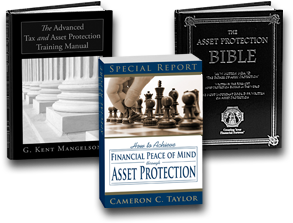 They have been invited to present at over one thousand conventions, conferences, and seminars across the country, with excellent reviews.
They are advisors to professional athletes, celebrities, renowned surgeons, and CEOs of major corporations.
Their strategies are used by Marriott Hotels, the New York Yankees, Hollywood celebrities, the Physician to the President, and thousands of other professionals.
They have over three decades of experience training professionals in every state of the Union.
They have been credited with saving their clients over one hundred million dollars. They are nationally recognized speakers who have shared the stage with Donald Trump, Zig Ziglar, Brian Tracy, Margaret Thatcher, Colin Powell, and former U.S. Presidents Reagan, Ford, Clinton, and Bush.
They have decades of court room experience.
They have degrees from prestigious universities, including Boston University, Boston College, and Harvard University.
They have authored and co-authored several books including, The Asset Protection Bible, America's Greatest Tax Secrets Revealed, and How to Achieve Financial Peace of Mind through Asset Protection.